iPhone X on a Scavenger Hunt, Atom(ic) PCs from Donki, Cyber Monday (on a Friday?) & something called… Diper ID? Plus TV talk (Not shows… TVs!) & what you need to know to get mobile data when visiting Japan! All this & more on this week's #ZettaiGeekDayo!
[Te-re-bi = Terebi (Terebijon) …"Television" (笑)]
As always, if you have any comments, questions or topics you'd like me to cover, please tweet them at me @kayleedayo on Twitter with the hashtag #ZettaiGeekDayo so I can find them.
@kayleedayo (English)
@purplefuku (Japanese)
@ZettaiGeekDayo
Tech News in Japan
Don Quijote (Donki, for short)
ドン・キホーテ、1万9800円のノートPC「MUGA ストイックPC」を12月1日発売。14インチ フルHD液晶搭載
Amazon Japan announces Cyber Monday sale from 12/8 to 12/11 (Japanese)
手袋のまま指紋認証ができる「疑似指紋 Diper ID」購入
Cases and protective screens for #iPhoneX have made their way to #Daiso !! ¥108!! ҉*\(´∇`)/*҉
ESR iPhone X ガラスフィルム
Main Stories
TCL 49型 フルハイビジョン 液晶 テレビ 49P300CF
Panasonic 49V型 フルハイビジョン 液晶 テレビ VIERA TH-49D305
LG 49V型 4K 液晶テレビ HDR対応 49UJ630A
Hisense 49V型 フルハイビジョン 液晶 テレビ HJ49K3121
And here's a search for 55-inch TVs on Amazon Japan…
Cellular Phone, Wi-Fi Rental and SIM Card Sales Locations at Narita Airport
Global Advanced Communications (Pocket Wi-Fi)
Mobal (Data + Voice)
JAPAN TRAVEL SIM powered by IIJmio
b-mobile VISITOR SIM | 5GB / 21days
Apple SIM – Apple (English)
Apple SIM – Apple (Japanese)
Apple SIM – au LTE Prepaid Data for Tablets (Japanese)
Apple SIM – How to Use 4G Data Prepaid | Softbank (English!)
Apple SIM – AlwaysOnline Wireless
Apple SIM – Traveling with iPad using GigSky Data
Fun Stuff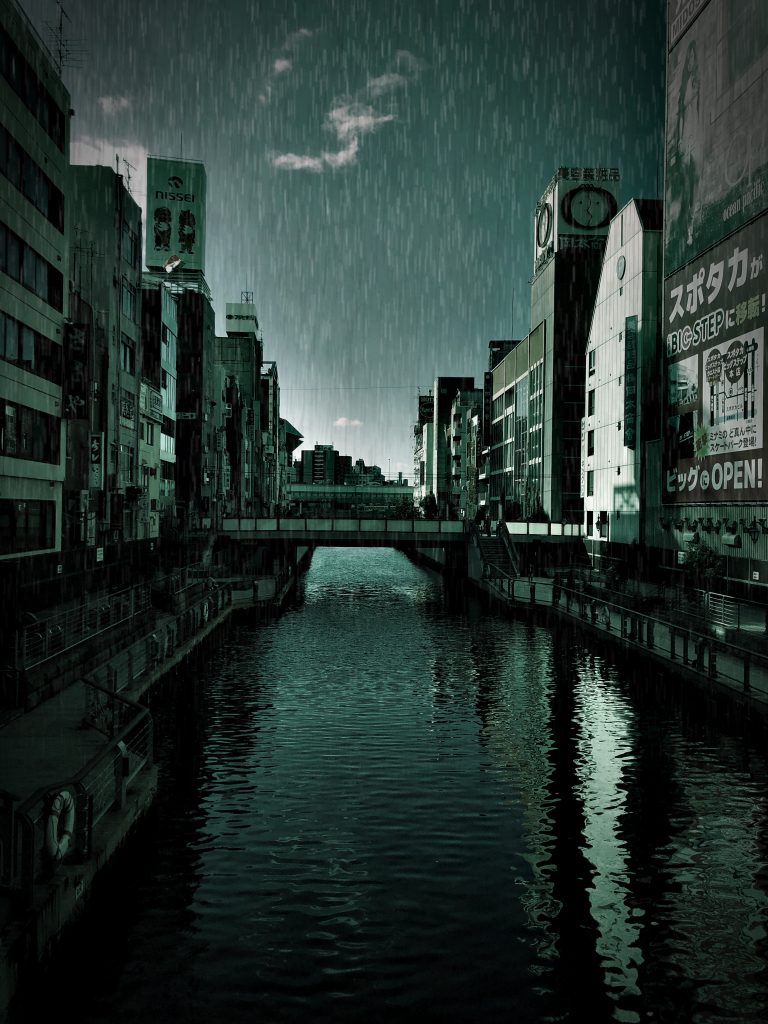 Shot of Osaka edited with Rainy Daze. Not bad, eh?
Rainy Daze on the App Store – iTunes – Apple
Pixelmator on the App Store – iTunes – Apple

"Under A Table At Taco Bell" kinda sounds like a "Weird" Al song.
(It's a photo from the scavenger hunt…)
Don't Change The Channel! Don't Touch That Dial!
We got it ALL on UHF! (Speaking of "Weird" Al… :P)
See you next week!